Donoma Farm will have a limited number of Grass Fed and Grass Finished beef cuts for sale. The animals are NOT given any hormones, antibiotics, growth promoters or chemicals. They live on the pasture, eat on the pasture and do what cattle do best, convert grass into delicious steaks and ground beef. We focus on high quality, happy, pasture raised beef!
Whats the big deal between Grass fed and GMO HAY/Corn Fed?
Differences in Fatty Acid Composition
"You are what you eat" applies to cows too…
What a cow eats can have a major effect on the nutrient composition of the beef. This is particularly evident when it comes to the fatty acid composition.
Grass-fed usually contains less total fat than grain-fed beef, which means that gram for gram, grass-fed beef contains fewer calories.
But the composition of the fatty acids is vastly different, which is where grass-fed really shines (1, 2, 3):
Saturated and monounsaturated: Grass-fed beef has either similar, or slightly less, saturated and monounsaturated fats.
Omega-6 Polyunsaturated Fats: Grass-fed and grain-fed beef contain very similar amounts of Omega-6 fatty acids.
Omega-3s: This is where grass-fed really makes a major difference, containing up to 5 times as much Omega-3.
FROM http://authoritynutrition.com/grass-fed-vs-grain-fed-beef/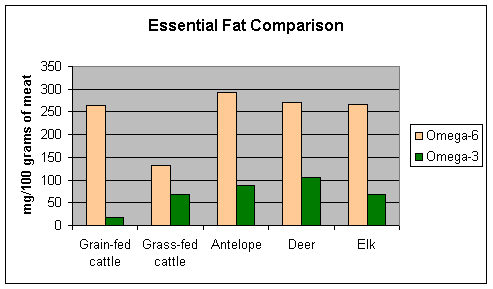 From: http://www.eatwild.com/healthbenefits.htm
From: http://www.texasgrassfedbeef.com/faq/introduction-grass-fed-beef-and-recommended-blood-lipid-analysis
Simple Illustration of Cuts